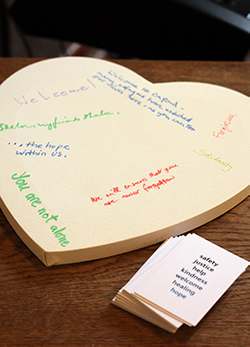 Refugee Support Newsletter – September 2020
In this newsletter
New Monthly Time of Prayer for Refugees

News from CCOW

News from Local Groups

Resources

Actions

Upcoming Events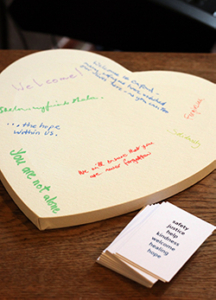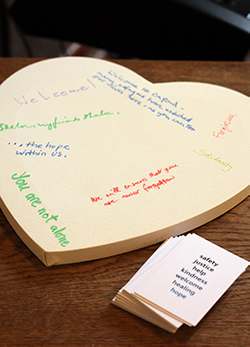 Time of Prayer for Refugees and Those Walking Alongside

On Tuesday 18th August, we held our first online monthly 'Time of Prayer for Refugees and Those Walking Alongside'. It was a joy and privilege to join with other Christians who care about refugees, to hear from Vanessa Faulkner and others involved in Marlow Refugee Action, and  to pray for their work, other local groups, the UK and global situation.
The next meeting will be on Monday 21st September, 7.30-8.15pm. We look forward to hearing from Sarah Wahby and Goytom Fissehaye, Service Manager & Trustee of Sanctuary Hosting, to inform our prayers. We will also focus our prayers this month around people who have made or are making perilous sea crossings. Please register on Eventbrite to receive the login details.
News from CCOW
CCOW's Refugee Networking Officer, Joanna Schüder, has a new mobile number: 07552 948688. She would love to hear from you on this number or by email: joanna@ccow.org.uk.
New on CCOW's website:
News from Local Groups

Asylum Welcome
 resumed face-to-face client services, by appointment only, in mid July. New staff appointments have included Caritas Umulisa as Assistant Youth Service Coordinator.
Charlbury Refugee Action
 has raised over £15,000 already this year for charities alleviating conditions for refugees in Europe. The group continues with imaginative fundraising initiatives, like a virtual team concert and downloadable recipe book.
Host Abingdon
 and Faringdon Refugees Group have now finished officially supporting the Syrian families who came to Vale of White Horse and South Oxfordshire under the government's resettlement scheme. Some volunteers will however remain in friendly contact with the families and support will be given when they move into new accommodation.
Sanctuary Hosting continues to host and support around 10 guests, one of whom recently gained a scholarship to Oxford Brookes University. More volunteer hosts are needed throughout the Thames Valley and also a web developer to enhance their website.
Wycombe Refugee Partnership has supported their 21st family to secure a rental proerty in London so the parents, both doctors, can complete their remaining exams and hopefully soon work in the NHS. WRP is currently looking for: bikes (helmets, pumps and locks), bedding, van drivers with vans, someone experienced with Universal Credit, an Albanian speak and qualified ESOL teachers.
Resources

Actions

Asylum Matters and NACCOM have produced a fact sheet "Everyone Out?"which you can use to write to your MP urging the government to prevent evictions from asylum accommodation into homelessness  during Covid-19 and beyond.
Read City of Sanctuary's suggestions on action we can take to Stand up for Sanctuary, including templates, links and a petition, for writing to our MPs, sharing positive stories on social media, and complaining about media coverage.
https://www.ccow.org.uk/wp-content/uploads/2020/09/Heart-Cropped-PS.jpg
347
250
Joanna Schuder
https://www.ccow.org.uk/wp-content/uploads/2018/05/CCOW-Logo-Revamp-V3b-300x98.jpg
Joanna Schuder
2020-09-16 08:36:33
2022-01-25 10:14:38
Refugee Support Newsletter – September 2020