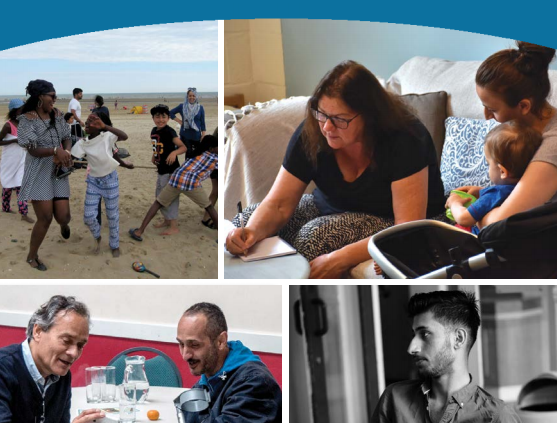 Refugee Support Newsletter – March 2020 (Part 2)
Updates on local groups


Online resources and opportunities


Prayers
Welcome to Part 2 of our March newsletter with information to help us stay connected and continue to support refugees in these challenging times.
Updates on local groups

 This week Asylum Welcome is almost entirely closed, prioritising a list of around 40 of their current most vulnerable clients for ongoing help. Please help keep the pressure off their reduced team: no drop ins! Email advice@asylum-welcome.org if you know of anyone else needing help. Supporters can donate online or by bank transfer.
British Red Cross is currently updating information on the availability and contact details of their serices due to coronavirus. You can still donate to support their work.
Under the current circumstances Connection Support is not visiting the Syrian refugee families it supports. But they could really do with people offering to volunteer who could spend time phoning the families just for everyday conversation. Also helping families with the children's school work via whatsapp or other similar social media facilities. Anyone interested should contact their volunteers coordinator on kevinburrows@connectionsupport.org.uk
Refugee Resource's offices are now closed but they continue to provide remote support. Many fundraising events have been cancelled, but the Oxford Half Marathon in October is still going ahead for now. So any runners who are keen to keep their fitness up & work towards this please consider signing up to run on behalf of Refugee Resource. They would also welcome donations to support the loss of income from community fundraising.
Refugee Support Network is trying to provide support round-the-clock for vulnerable, isolated refugees and asylum seekers at this unique time. Lockdown can be a very challenging time for those with recent experience of such/being unable to escape, and isolation can be very difficult for those recently arrived who have a very limited social network. RSN is also keen not to lose momentum on its building campaign to bring a unique refugee education centre and social impact hub to one of the most deprived areas of London. You can support the Refugees during Covid-19 campaign to keep key services running and the Sending Solidarity campaign, in which members of the public can, beyond making a donation, send a postcard or photo of to a vulnerable or isolated refugee who RSN works with.
Sanctuary Hosting is continuing to actively support their 14 guests, while also ensuring hosts and support workers can continue in their roles. A number of hosts have had to end their placements due to being in the vulnerable category with regards to Covd 19, so new hosts are needed for these guests. and also for 5 peope on the waiting list. Sanctuary Hosting is increasing the weekly stipend to their guests who are destitute to £30 weekly to cover higher food prices. So if anyone could help by donating £10 per month that would be tremendously helpful.
Refugees in the UK will have smaller local networks and may not be sure who they can go to for support during the Covid19 pandemic. Many will be feeling very isolated and far from home. It is more important than it ever has been for churches to reach out to refugees and asylum seekers in their communities. Welcome Churches are producing new resources regularly to help churches do this: welcomechurches.org/covid19. Please give to help them develop more ways of supporting refugees across the UK during this time at welcomechurches.org/donate. Thank you.
Wycombe Refugee Partnership just welcomed their 21st refugee family to Mellor House and are putting the father of their 22nd family into temporary accommodation while he waits for his family to be allowed to join him. WRP were delighted that people quickly volunteered to shop for one of their refugee families who are self-isolating due to having a vulnerable child.
Online resources and opportunities
Anyone wishing to pray in the current situation may find this
Churches Together in England
 webpage helpful. It gives links to suggested prayers and guidance from a number of different churches.
An additional prayer is below:
Dear Lord,
As the Covid-19 pandemic continues we pray for refugees, asylum seekers and all displaced people. We ask that those in authority would act to improve their living conditions, remembering especially those in refugee camps and sleeping rough. Give government leaders and all in authority wisdom and motivation to do all that is possible to protect these people – and all  people – from illness and suffering. 
We also ask that you will grant wisdom, protection and resilience to staff and volunteers of refugee charities and groups, who are striving to continue to support their clients in the current difficult circumstances.
Help us all not to be afraid, but to continue in times of rapid change to love our neighbours as ourselves, trusting not in our own understanding but in your unchanging love and mercy.
Amen.
https://www.ccow.org.uk/wp-content/uploads/2020/04/Booklet-front-cover-Supporting-Refugees-a-guide-for-Oxfordshire-churches.png
790
557
Joanna Schuder
https://www.ccow.org.uk/wp-content/uploads/2018/05/CCOW-Logo-Revamp-V3b-300x98.jpg
Joanna Schuder
2020-04-01 10:54:01
2022-01-25 10:17:17
Refugee Support Newsletter – March 2020 (Part 2)