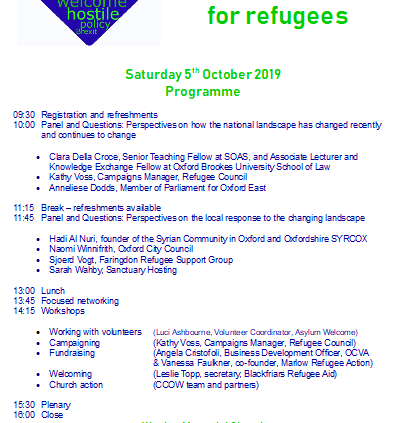 Refugee Support Newsletter – September 2019
'Responding to the Changing Landscape for Refugees' –
Saturday 5 October, 9:30 to 4, Wesley Memorial Church, Oxford
It's not long till our big event of this year! Hear national and local speakers with a wealth of relevant expertise and personal experience. Join in the discussion, workshops and networking; browse the information stands; and share a buffet lunch. Free to attend but suggested donation of £5 for lunch. Registration essential. Please spread the word and sign up now to come.
News from local groups
Sanctuary Hosting has published a study of hospitality in hosting by Dr Yasmin Gunaratnam from the Sociology Department of Goldsmiths College in London. It is based on interviews with fifteen of Sanctuary Hosting's volunteer hosts and gives a good insight into their experiences.
Now that Campsfield House immigration detention centre (near Oxford) has closed the successor to the Close Campsfield campaign is Oxford Against Immigration Detention (OAID) which continues to campaign to close all immigration detention centres.
Asylum Welcome will shortly receive seven bikes renovated by The Windrush Bike Project in Witney, thanks to a £500 Community Activities Grant from West Oxfordshire District Council.
KAMA Oxford will be starting off the Autumn term with a second teacher training session at the Oxford University Department of Education, and an appearance at the County Library Open Doors event on the 15th September. For more details, to become a teacher mentor or to find out about upcoming courses, follow them on Facebook or sign up to their mailing list.
Marlow Refugee Action have another series of Syrian Pop-up Suppers (food provided by Syrian Chef Imad Alarnab who was one of the first families to be welcomed by the Wycombe Refugee Partnership) coming up on the 1st, 8th and 15th November. Contact tickets@marlowrefugeeaction.org for details or keep an eye on their Facebook page.
Wycombe Refugee Partnership's 19th family has now moved into a long-term rental flat, so Mellor House is now available as halfway accommodation for another refugee family. They need to have refugee status, to be willing to work, and to speak English well enough to cope with a job interview. WRP gives wrap-around support, including the loan of the deposit and up to two months' rent when they move into their long-term house or flat.
Resources
A new website has been developed to promote Church of Sanctuary. "Hospitality and Sanctuary for All" and other resources can be downloaded there.
Helpful resources for Community Sponsorship groups and others supporting resettled refugees to understand and apply for benefits: Tips for supporting a resettled refugee family with a Universal Credit claim by Jo Hayes of Peckham Sponsors Refugees; Training resources procuced by the charity Reset; Benefits calculator by Turn2Us; Citizens Advice's online chat function for help applying for Universal Credit.
An evaluation report by Birmingham University's IRiS on Community Sponsorship in the UK, based on interviews with refugees, volunteers and thought leaders between January 2017 and January 2019. This shows the benefits of Commuity Sposorship for all involved as well as the challenges, and gives recommendations for improvement. IRiS has also produced a Toolkit with practical advice on Syrian resettlement for local authorities and practitioners.
Citizens UK and student researchers from UCL have produced a report Forgotten People – How the hostile environment impacts schools and children's wellbeing. It is based on consultation with headteachers, teachers and pupils from seven London schools and includes many of their own words.
A five minute video: UNHCR's global trends in forced displacement – 2018 figures provides a good introduction to the topic of refugees and forced migration. Helpful for raising awareness, clarifying the global picture and showing refugees as individuals.
Since the introduction of the UK government's Hostile Environment policy many migrants have experienced increased difficulty accessing healthcare. Patients Not Passports, by Migrants Organise, Medact and Docs Not Cops, is a tookit of information and campaigning advice about immigration checks and upfront charging in the NHS. See also Medact's briefing paper and City of Sanctuary's Health Stream.
Right to Remain have produced four new 5-minute videos on the UK asylum system, available in English and several refugee languages: An introduction to claiming asylum in the UK, The asylum screening interview, The substantive interview and The UK asylum process: after an asylum refusal.
New Home Office Domestic Abuse Guidance gives greater protection to asylum seeking women who may now access refuge accommodation and support services – see the Refugee Council's summary.
A Policy briefing: Urgent Reforms Needed to Improve UK's Approach to Statelessness by Consonant, Liverpool Law Clinic and European Network on Statelessness makes three recommendations, in advance of the intergovernmental meeting in Geneva on 7th October.
An open, joint letter to the Home Secretary from 38 migrant and refugee organisations, including Asylum Welcome and Churches' Refugee Network, outlines the current pressing issues within the UK immigration and asylum system.
A government guide for asylum seekers staying in temporary accommodation while their claim for asylum is assessed, has recently been published in multiple languages.
Refugee Action and NACCOM have published a report Missing the Safety Net on the experience of people refused asylum in the UK but unable to leave the country. It highlights difficulties and delays in being given the minimal support to which they are entitled and calls on the government to fulfill its commitments, in order to prevent destitution.
Actions
Encourage your local school to become a Refugee Welcome School. This accreditation scheme, run by Citizens UK in partnership with NASUWT, recognises schools that have made a commitment to welcome refugees in their institution and community, educate all their pupils and staff about the importance of refugee protection over the course of a year, and participate in campaigns to improve the lives of refugees in the UK.
Sign Citizens UK's petition to Stop Home Office profiteering from Child Citizenship fees. As highlighted in a recent article in The Times high fees, which have risen sharply in recent years, are stopping eligible people from gaining citizenship and participating fully in life in the UK.
Ask your MP to support the call for Youth Welfare Officers in UK asylum accommodation to support the health and wellbeing of 18 to 25-year-old asylum seekers – see the policy proposal by Refugee Rights Europe and Meena.
Get your local council to pass a motion against immigration detention and the hostile environment following the example of Oxford City and nine other English councils.
If you live or work in Oxford you can now add your signature online to Oxford's commitment to asylum seekers, refugees and migrants.
Upcoming Events

Wednesday 11th September – Open hearts and open doors – hosting talk and discussion (Marlow)
Wednesday 18th – Thursday 19th September – Conference: What is a "Church of Sanctuary"? (Salisbury)
Friday 20th September – Saturday 7th December – Act: Speak: Inspire – intercultural leadership programme (London & Calais)
Thursday 26th September – London Community Sponsorship Networking Event (London)
Friday 27th September – Sunday 29th September – Weekend Conference – Envisioning a world that is open to all: let us see what love can do (Birmingham)
Friday 27th September – A Night of Jazz, Soul and Blues – for Brightwell Supporting Refugees (Brightwell-cum-Sotwell)
Monday 30th September – The Asylum System – Churches' Refugee Network Meeting (London)
Saturday 5th October – Responding to the changing landscape for refugees (Oxford)
Saturday 12th October – Churches welcoming refugees – by Welcome Churches (London)
Monday 18th November – Marlow Refugee Action AGM & World-Cafe 2019 (Marlow)
The CCOW events calendar is updated regularly with events of interest on this and other topics. Take a look!
Sign up here to receive our quarterly Refugee Support Newsletter by email.
https://www.ccow.org.uk/wp-content/uploads/2019/09/Autumn-event-programme-image.png
578
401
Joanna Schuder
https://www.ccow.org.uk/wp-content/uploads/2018/05/CCOW-Logo-Revamp-V3b-300x98.jpg
Joanna Schuder
2019-09-18 09:17:55
2019-09-18 09:34:30
Refugee Support Newsletter – September 2019