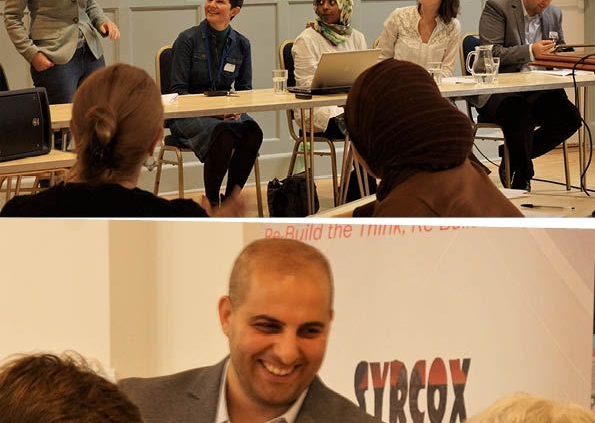 Refugee Support Newsletter – December 2019
Sign up here to receive our Refugee Support Newsletter by email once every three months
In this newsletter
Feedback from CCOW's 'Changing Landscape' conference

News from Local Groups

Resources

Actions

Upcoming Events
Feedback from CCOW's 'Changing Landscape' conference
Thank you for all the helpful feedback about 'Responding to the changing landscape for refugees', our conference held on 5th October in Oxford. Your comments and suggestions will help shape future CCOW events. Attendees really appreciated the informative and inspiring speakers and workshop leaders, the networking opportunities and the delicious lunch. Comments on what was best about the event included: "Being part of a movement that wants to support and help refugees and asylum seekers feel welcome" and "Wonderful conversations had and much learnt".
If you weren't able to make it and would like to know more about the first plenary panel – which surveyed the changing landscape from a legal and campaigning point of view – do email us for notes.
News from Local Groups

Iraqi Women Art and War is a collective of Iraqi women artists and makers who live in Oxfordshire. It is led by Iraqi Community Ambassador Rana Ibrahim. They have come together to explore their shared experience of contemporary war, displacement, and forced immigration through art, sound and story. They are working towards an exhibition in 2020. .
Brightwell Supporting Refugees' Night of Jazz, Soul and Blues on 27th September was a great success, their biggest fundraiser yet, raising £1,638.
Wycombe Refugee Partnership's 20th family (comprising 7 people) arrived safely and moved into Mellor House in November.
Oxford City of Sanctuary relaunched as a cooperative at a public meeting on 13th October. They are now a Community Benefit Society, with membership open to both individuals and corporate body members. They are the first group in the national City of Sanctuary movement to take this step – and will continue to act as an 'umbrella organisation', including  many of the other groups & charities working alongside asylum seekers, refugees and migrants.
You can now buy Refugee Resource's new recipe book online. It is compiled by members of their Women's Service and all proceeds from sales go directly to support the Women's Service activities.
Resources

Over 100 refugee organisations have signed a letter to the government drawing attention to severe failings with the new systems for asylum support. There has been a huge increase in delays in the asylum process and people being left weeks without any support.
The UK government published its latest immigration statistics up to the end of September 2019, including asylum applications, VPRS (Vulnerable Person Resettlement Scheme), immigration detention and returns. Further statistical analysis and background information regarding asylum seekers and refugees is in the Migration Observatory briefing.
The Refugee Studies Centre have published the results of their initial research: "Integration of resettled Syrian refugees in Oxford: preliminary study in 2018″. Based on interviews with 14 of the families, as well as people involved with the Syrian Vulnerable Person Resettlement Scheme from the Council, community groups and charities, the report looks at aspects of integration and what lessons can be learnt.
Resources for the Week of Prayer for Christian Unity 2020 (18th-25th January) are now available. Prepared this year by the churches in Malta and entitled "Unusual kindness" they include (on Day 3) a focus on responding to refugees.
The latest Aegean Boat Report monthly statistics show a sharp increase in the numbers of migrants arriving on the Greek islands – 54,386 so far in 2019, up 84 % from last year. A far greater number (99,554) have been arrested as the Turkish coast guard and police stop boats on their way towards Greece.
We've had two new book recommendations: (1) "What do we know and what should we do about immigration?" by Jonathan Portes, recommended and reviewed by immigration lawyer Colin Yeo, and (2) a novel about a thirteen-year-old Syrian refugee girl "A House Without Walls" by Elizabeth Laird, recommended by Helen Conor of Brightwell Supporting Refugees.
Three reports by UNHCR on unaccompanied and separated refugee children in the UK, whose numbers have increased in recent years, look at the children's experience and how it could be improved.
The recent Quaker Asylum and Refugee Network conference 'Envisioning a world that is open to all: let us see what love can do', produced a reflective 'Epistle'.
Parties aren't the only groups that can produce a manifesto! The Joint Council for the Welfare of Immigrants has also produced one: "People Move – 12 steps to a fairer immigration system".
Resources to help those working with refugees guard against stress and burnout are provided by Mobile Member Care Team and Headington Institute.
In preparation for the first Global Refugee Forum in Geneva (16th-18th December), the University of Oxford's Refugee Studies Centre has prepared a briefing that contains seven articles contributing "Towards understanding and addressing the root causes of displacement"
Actions

Sign Freedom from Torture's 'Safe Space' Declaration to state that you feel the UK should be safe space for torture survivors.
The Refugee Council and others continue to campaign for refugee families to be united and for asylum seekers to have the right to work. Find out how 
you can join the campaigns
.
https://www.ccow.org.uk/wp-content/uploads/2019/12/Changing-Landscape-mix-photos.jpg
842
595
Joanna Schuder
https://www.ccow.org.uk/wp-content/uploads/2018/05/CCOW-Logo-Revamp-V3b-300x98.jpg
Joanna Schuder
2019-12-17 13:21:17
2019-12-17 13:23:26
Refugee Support Newsletter – December 2019