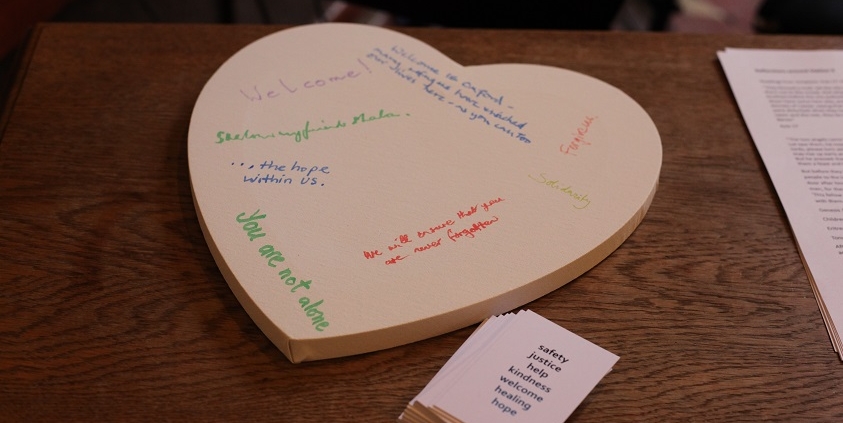 Supporting Refugees Locally at a Time of Coronavirus
Refugees, here in the UK and around the world, need our support more than ever during the coronavirus pandemic.
People who have fled their homes are often living in crowded camps or rough settlements, unable to self-isolate, practise social distancing or wash hands regularly. The majority are displaced within their own countries or in neigbouring countries, many of which have healthcare systems unable to cope with COVID-19, through the effects of war or longterm economic weakness. With borders closed many are trapped, such as on the Greek islands, unable to continue their journey.
Those who are now in the UK often find themselves isolated, as their social networks are still limited and refugee charities have been forced to scale back their services. Access to appropriate housing, healthcare and vital supplies and services is now a problem for many, particularly for asylum seekers and others with No Recourse to Public Funds (NRPF). Many people, including the Mayor of London and migrants' rights charities are calling for a suspension of NRPF, and the Home Office is rethinking this policy but the Home Secretary's current position is that since people with NRPF are eligible for some of the government's Covid-19 support measures and some individuals can apply to have their NRPF restriction lifted,this is sufficient. Refugee Charities are also calling on the government to increase asylum support payments in line with the increase in Universal Credit which was made in response to the pandemic. With regards to healthcare, whilst treatment for COVID-19 has been made free to everyone, treatment for underlying health conditions would still need to be paid for by some people, deterring them from seeking medical care. So Doctors of the World, the BMA and refugee charities are calling on the government to suspend NHS charging regulations.
What can we do?
Pray
for measures to help protect refugees from COVID-19 to be implemented

for those in the asylum process whose immigration interviews have been suspended at this time and those for whom the process of family reunion has stalled

for those in need of a safe place to live – give thanks that those in UK asylum accommodation have been permitted to stay there for the next 3 months, that all those on the streets are to be housed by local authorities and that many have been released from immigration detention centres. Pray for all who are still in shared accommodation.

for those with No Recourse to Public Funds and those prevented from accessing healthcare due to NHS Charging Regulations

for refugees who are qualified health workers but have not yet completed the process of registration in the UK – give thanks that they can now work in the NHS as Medical Support Workers, but pray they may soon get registration so they can use their full skills at this time of urgent medical need.
…and act
https://www.ccow.org.uk/wp-content/uploads/2019/02/Small-Heart-Messages-of-Welcome.jpg
562
843
Suzabelle Jones
https://www.ccow.org.uk/wp-content/uploads/2018/05/CCOW-Logo-Revamp-V3b-300x98.jpg
Suzabelle Jones
2020-05-02 08:22:25
2021-04-30 10:21:33
Supporting Refugees Locally at a Time of Coronavirus