Hurricane Maria & Dominica, German General Elections: 24 to 30 September 2017
Hurricane Maria and Dominica
Harvey … Irma … the rains flooding East Asia … Maria. Following the impact of hugely destructive tropical cyclones and monsoon rains over the past month has been heartrending, and together with you and others around the world we have been joining in prayer for all those affected.
We're focusing on providing some context for prayer and action relating to Dominica in this email, however, as it's the island with which we have a particular connection. Long-term supporters of CCOW will know that Dominica was where I (Maranda) travelled in 2010 to learn more about the social, environmental and economic impact of Fairtrade bananas. At that time,  I not only learned a great deal about the positive impact of Fairtrade on the farmers and the island as a whole, but also was bowled over by the friendliness of Dominicans, the beauty of the island's rainforests and rivers, and the care that had generally been taken to preserve them.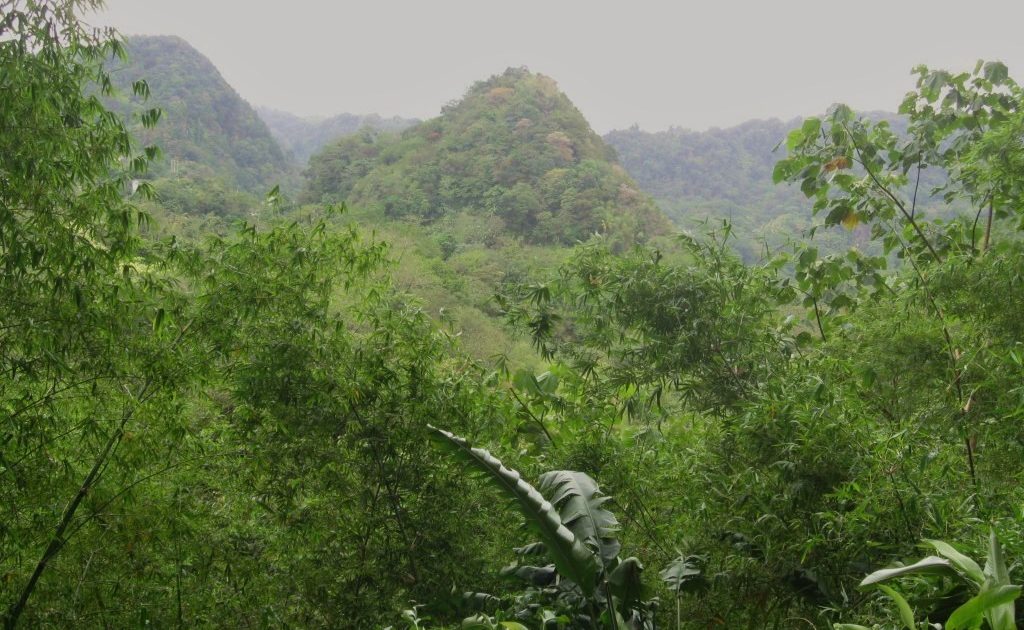 'Après Bondie, C'est La Ter' ('After God is the earth') is the country's motto, and Dominicans have historically been passionate about making decisions that preserve their home. When I visited, I found that the Dominica National Fair Trade Organization (DNFTO), for example, had used its premium to create a composting unit that would both reduce waste and provide income generation. There was an active organics movement. Tourism was being developed in a way that cherished the natural beauty of the island, with clear popular support. "The label we have attached to ourselves, 'The Nature Island of the Caribbean,' is the best thing that we could do to ourselves," one person said. And people in Roseau opined that mass tourism wasn't desirable: you don't want to destroy your flora and fauna.  Nor was it simply private citizens who were working to steward the earth. While many were critical of the country's governance, the government was clearly supporting eco-tourism as a means of development. More recently, it has installed LED lamps in its streetlights and is trying to work towards energy self-sufficiency from geothermal sources.
But  alongside the love and care for the earth lay a profound concern about changing weather patterns and the country's vulnerability to disasters. In the Spring of 2010, the country was experiencing a drought that had caused severe damage to banana crops, and farmers there – as in so many places – spoke about uncertainty and wondered what the future held. One of the island's most entrepreneurial and successful banana farmers, Cato Ferreira, said
"We have just experienced the worst drought ever … From November last year up to this present moment, I have never seen so much sun, so much dry weather. No rain at all … it's very very hard at this point for the farmers … Last year I made about 4,000 boxes [of bananas] January to March. This year, it was about 1,000 boxes …We've reached the stage that we really don't know what to do … If this pattern is going to continue, then we're in deep trouble."
Ferreira noted that there was more assistance for farmers to deal with hurricanes than with droughts – but an official at WINCROP, which provided crop insurance for bananas that were being exported, made it clear they regarded the prospect of severe tropical cyclones with trepidation. Hurricane Dean, in 2007, had passed close to the island as a Category 2 hurricane and had caused significant damage, including 100% crop losses for banana farmers. When asked what would happen if further such storms emerged, the official said simply: "WINCROP will soon get out of business. Every time we have a big storm, we lose growers."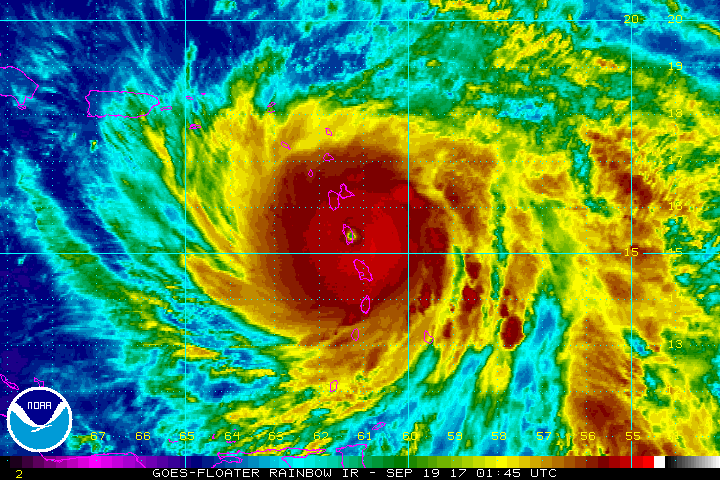 This week Hurricane Maria dwarfed all previous storms to hit the island. Between 8:00 pm local time on Sunday the 17th and 8:00 pm on Monday the 18th, it intensified rapidly from a low category 1 to a category 5 storm (reports at 5:00 AM , 11:00 AM, 5:00 PM, 8:00 PM AST). It was at category 5 with winds of 155-160 mph when it hit Dominica Monday night, its eye following a course that tracked the length of the island from south to north.
As of Friday, the Dominican government had confirmed at least twenty-five deaths, though because many roads are impassable and communication outside the capital remains difficult, it's hard to assess what the final total of fatalities may be. Initial estimates by the Caribbean Disaster Emergency Management Agency (CDEMA) suggested that between 80% and 90% of Dominica's buildings are damaged or destroyed, and the winds damaged or uprooted 75% of the trees that are such a dominant feature of the landscape. Many of the rivers that are normally a beautiful feature have overflowed their banks, and CNN saw dozens of places where the country's steep slopes have crumbled in landslides – though on the whole these were not, fortunately, near centres of population. CNN reporters also stated that all crops – a significant portion of Dominica's economy and source of foreign currency – appeared to have been destroyed, placing in jeopardy not only the country's current well-being, but also its future income.  Everywhere, people lack access to food and clean water, and in the chaos, there has been looting.
Dominicans are strong and resourceful. They rebuilt after Dean in 2007 and again after Tropical Storm Erika whose rains devastated the country two years ago, killing 30 people and causing damage valued at $483 million, about 90% of the nation's GDP. And, as this video shows, they have already begun to work on recovery. But the devastation this time is, as Prime Minister Roosevelt Skerrit said, 'mind-boggling'. "We have," he noted, "lost everything what money can buy or replace." While he promised that "we will rise … because Dominican people are strong, because Caribbean people are resilient," the country will be building back "from zero." Because Dominica is a small island and the hurricane hit all areas, there is no place that is unaffected, no part of the country that can offer unscathed resources to assist the others.
How do we respond to all this? In prayer, of course, and there are prayer points below. But we can also take action in two respects.
The first is by giving to relief efforts and pressing for adequate funding for vulnerable countries. Unlike many other islands in the region, Dominica is not an overseas department or territory, but an independent nation. As such it has no inherent right to draw on the internal resources of another country, though it is eligible for foreign aid.
The island's immediate and long-term needs are huge. Local, regional and international agencies and Dominican expatriate organisations are working to raise funds and send emergency necessities (while it is often not best practice to send goods for humanitarian relief, this is one instance where sending goods that correspond to the island's official list of needs is helpful). And at a country and international institution level, various commitments have been made. The Caribbean Catastrophe Risk Insurance Facility, a regional risk pool, will pay $19 million to Dominica within the next fortnight, giving the government vital capacity to address critical humanitarian and infrastructure needs. The Caribbean Development Bank is preparing to send an immediate grant of $200,000 and to make a loan of up to $750,000. Other islands – St Kitts and Nevis, Barbados, St Lucia, and Grenada among them – are providing assistance with personnel, in cash, or in kind. The US, UK, France and Venezuela are already providing  support and evaluating longer-term needs. The EU is disbursing 250,000 Euros worth of emergency supplies and logistical support. Specialist telecommunications teams are working to restore communications networks.
But while all this is good, the totals involved so far are nowhere near the totals required, and there is an urgent need to advocate for further country-level aid and for the development of  international mechanisms to assist Dominica and other vulnerable states, especially small island developing states, in responding to the loss and damage caused by extreme events for which adaptation isn't possible.
The second way we can respond with action is by taking, now, whatever our next step is to fight climate change. When Prime Minister Roosevelt Skerritt spoke to the UN General Assembly on Saturday, that, not aid, was where he started. "I come to you straight from the frontlines of the war on climate change," he began. Warmer air and sea temperatures, he noted, were "the fuel that takes ordinary storms … and supercharges them into a devastating force." "To deny climate change," he added, "is to procrastinate while the earth sinks …"
Hurricanes are complex phenomena: powerful ones have long existed, and any single event involves multiple factors. What allowed Maria to become so potent, for example, wasn't just the higher-than-average sea surface temperatures and high ocean heat content in the hurricane development area, but also an absence of wind shear to disrupt the storm's circulation and a moist atmosphere. Not all climate scientists, therefore, are comfortable attributing – yet – the potency of Maria or other recent storms specifically to climate change, though many say they feel that trends relating to climate change are becoming visible and an increasing number are, like the Prime Minister, suggesting that climate change may have made these storms and their impacts worse.
But even if we don't yet have the verdict of attribution studies on the more recent storms, science gives us reason to act now. As the Prime Minister notes, there is general scientific consensus (New York Times, Atlantic) that warmer waters did and more generally do provide the fuel that allows for the kind of rapid intensification Maria and Harvey underwent. Warmer air carries more water, creating the potential for greater rain extremes; the World Meteorological Organization has already said this likely influenced Harvey's rainfall rates. Sea level rises linked to climate change do make coastal areas more vulnerable; Superstorm Sandy would probably not have flooded lower Manhattan were it not for sea-level rises. In short, climate change is at the very least, already loading the dice, increasing the likelihood that storms will become more intense. The longer we wait to address it, the more likely it is that disasters like this will become the norm.
And as the Prime Minister noted later in his UN speech, there is a profound injustice at play. "We as a country and as a region did not start this war against nature; we did not provoke it. The war has come to us," he said. "We in the Caribbean do not put huge greenhouse gases … but yet we are among the main victims on the frontline … We are shouldering the consequences of the actions of others." It is indeed profoundly wrong that people who work so hard to care for the part of creation entrusted to them should, whether at this time or at any time in the future,  find themselves and their home placed at risk by a threat for which they are not responsible.
"We need all humanity, all countries, big and small, developed and developing to come together to save our planet. We must all live up to our obligations and commitments to do more."  Prime Minister Roosevelt Skerrit, UN General Assembly
We, as individuals and church communities acting on our own, cannot solve the issues around climate change. But out of love for God and our neighbours – in Dominica, in the Philippines, in Vanuatu, in Texas – we can join those people, businesses, cities and countries that are providing an example of leadership, forming a growing network that can make a difference. As the founder of a major environmental coalition once said, taking action isn't about worrying over what you can't do. It's about recognising that you must do what you can do. It's about taking one small step – writing to your MP so that climate issues are on his or her agenda; switching to a green energy supplier; not planning holidays that require flights; eating less (or no) meat; campaigning for disinvestment – and then following where God calls you from there.
As churches around the world celebrate the Season of Creation, this is part of our calling as disciples. Arthur Bannis, who is both one of Dominica's largest banana farmers and a Pentecostal minister, put it this way in 2010: "I believe the Word of God. I love nature. The Bible says He gave us all things to enjoy. The first place that He put man was in a garden. Man is there to manage the Earth; if he goes overboard, he'll face the consequence. As a church, we need to take care of the environment, take care of the earth…."  This Season of Creation can you and your church take action? If you'd like ideas, we'd be happy to help.
Please pray:
for all affected by recent disasters, including:

the people of Mexico following last week's devastating earthquake
the people of Indonesia at risk from a volcanic eruption in Indonesia
the people of Texas rebuilding after Harvey
the people of East Asia recovering from monsoon floods
the people of the Caribbean and Florida recovering from Irma and Maria

In all cases,  pray for comfort for those who mourn lost loved ones … safety for those whose homes have been damaged or destroyed … hope for those who have lost livelihoods … wisdom for those charged with governing and coordinating relief
for climate justice – that individuals, businesses and countries will act to reduce emissions, to fund adaptation by those most vulnerable to climate impacts, and to compensate those who suffer extreme loss and damage.
Some ways of donating to Caribbean islands affected by Irma and Maria
Some websites to look at for suggestions on climate action
German General Elections
Today,  Sunday 24th September, general elections will take place in Germany to elect the parliament for the next four years. The leader of the main party which forms the government will become the Chancellor. The system of proportional representation used in national German elections means that the number of seats in the German parliament (Bundestag) which each party gains reflects the percentage of votes cast for that party over the whole country. All parties which gain at least 5% of the vote are represented in parliament. This is different from the "first past the post" system in the UK. It means that usually no one party has the absolute majority, and coalition governments are the norm.
The current government is what is known as a "Grand Coalition" of the main parties; the centre-right CDU (Christian Democrat Union) together with its Bavarian sister party the CSU (Christian Social Union) and the centre-left SPD (Social Democratic party). Chancellor Angela Merkel is standing again for the CDU, hoping for a fourth term; the candidate for the SPD is Martin Schulz, who was previously President of the European Parliament. Also likely to gain seats in parliament are the FDP (Free Democratic Party), a free-enterprise pro-business party lead by Christian Lindner; Die Linke (The Left) a left wing party with roots in the former East German socialist party under Sahra Wagenknecht and Dietmar Bartsch, AfD (Alternative for Germany) a populist, nationalist party under Alexander Gauland and Alice Weidel; and Bündnis 90/Die Grünen (The Greensthe environmental party under Katrin Göring-Eckardt and Cem Özdemir. Recent polls 1are predicting the follow result: CDU/CSU – 36.3%, SPD – 22.5%, FDP – 10%, Linke – 9.5%, AfD – 9.5%, Greens – 8%, Others – 4.3%. This would make another "Grand Coalition" of CDU/CSU & SDP or a "Jamaica Coalition" (of the parties whose colours are black, yellow and green like the Jamaican flag) of CDU/CSU & FDP & Greens a possibility. Further analysis can be found here.
There are a range of issues which are important to voters in Germany in these elections including: asylum and immigration legislation, internal security (combatting terrorism and crime), social justice (low paid jobs, the gap between rich and poor, tax reform), pensions and retirement age, quality nursery and school provision, closing down all atomic power stations and future energy supply.
Germany's position vis a vis refugees has, in fact, shifted over the past few years. When the refugee crisis in Europe began in 2015, as large numbers fled Syria via the Mediterranean and the Balkans, Germany was at the forefront of welcoming them, taking in over 1 million people. Appeals to other EU countries to share in hosting refugees, however, went largely unheeded. This, combined with some terrorist attacks in Germany, led to a degree of backlash amongst some parts of the German population. The far-right group Pegida (Patriotic Europeans Against the Islamisation of The Occident) was formed and the AfD increased in popularity. As the number of refugees arriving in Germany has declined to about 90,000 in the first half of 2017, however, following the EU treaty with Turkey and the closure of the Balkan route, the popularity of Pegida and AfD has waned. In addition, the SPD has criticized Merkel's 2015 policy, and the government's stance has altered somewhat. It is now attempting to use international agreements to prevent refugees travelling to Europe, leaving Italy to accommodate those who have recently arrived there across the Mediterranean and giving many Syrian refugees only a reduced humanitarian protection status without the right of family reunification.
Please pray:
for all involved in the election and its aftermath to remain respectful and constructive, free of discriminatory or inflammatory language, and for the elections to be free and fair.
for a new government which will work for the good of all its people, addressing the issues of concern, and seek peace and justice around the world.
in thanksgiving for the welcome given to refugees by the German authorities and the vast majority of the German population over the past two years.
for wisdom for those making decisions about Germany's future immigration policy.
for refugees in Germany – that they may have a good experience of integration. Pray also especially for those separated from loved ones
https://www.ccow.org.uk/wp-content/uploads/2017/09/Maria-over-Dominica.gif
480
720
Suzabelle Jones
https://www.ccow.org.uk/wp-content/uploads/2018/05/CCOW-Logo-Revamp-V3b-300x98.jpg
Suzabelle Jones
2017-09-24 15:23:26
2018-08-25 13:37:45
Hurricane Maria & Dominica, German General Elections: 24 to 30 September 2017