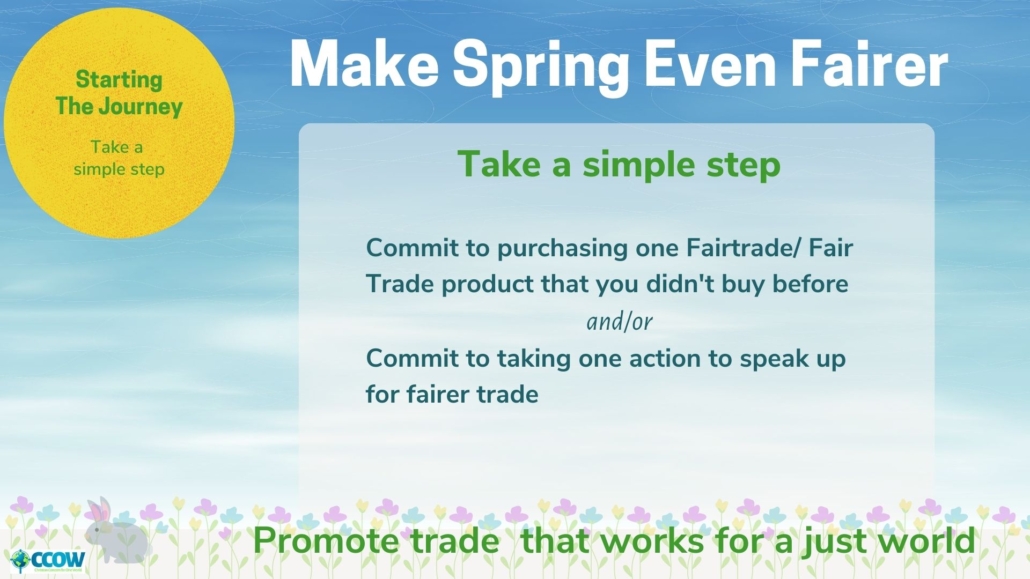 Small steps add up
If each of us chose to buy one more  Fairtrade/Fair Trade product regularly, the impact could be amazing.
Think of it this way. There are about 55 million people in the UK who are 15 and over. If every one of us bought one more Fairtrade product worth £1 once a week, the annual retail value of those sales would be £2,860,000 – almost £3 billion. Even if only half of us did so, we'd just about double current Fairtrade sales, adding almost £1.5 billion a year.
So why not start with you? Whether it's the kind of thing you buy frequently, like bananas, tea or ice cream, or a more occasional purchase like cocoa, wine, flowers, a cotton shirt, or a greeting card, try to identify something that isn't currently Fairtrade/Fair Trade and make the switch!
Making the switch doesn't have to be more expensive, either. If you buy your bananas from Sainsbury's, Co-op or Waitrose, Fairtrade is the default. Many supermarkets have own-brand Fairtrade tea, coffee, chocolate and sugar offerings which are the same price as other own-brand goods. Some Fairtrade products are on the more expensive side – but they tend to be premium products which are priced at a level comparable to other premium ranges.
Making it happen
Take a look at what's available –  look at the Fairtrade Foundation's product pages, or our 'Using Fair Trade in your church', which lists all kinds of food and gift options.
Get to know your sources. The easiest thing is just to pick something that you can do as part of your regular shop. But why not also look at some of the specialist Fair Trade retailers – local Fair Trade shops with an online presence or online retailers  –  'Using Fair Trade in your church' has a list of online retailers, and in our area, Fair Trade at St Michael's will post items, The Mustard Seed will deliver (if you are within easy cycling range of Faringdon); RISC in Reading and Just Trading in Wallingford are open; and Headington Fair Trade will do click and collect.
Make a pledge. You might want to use our pledge card.
Inspire others! You might want to share the film in our resource section.
Using Fair Trade in Your Church