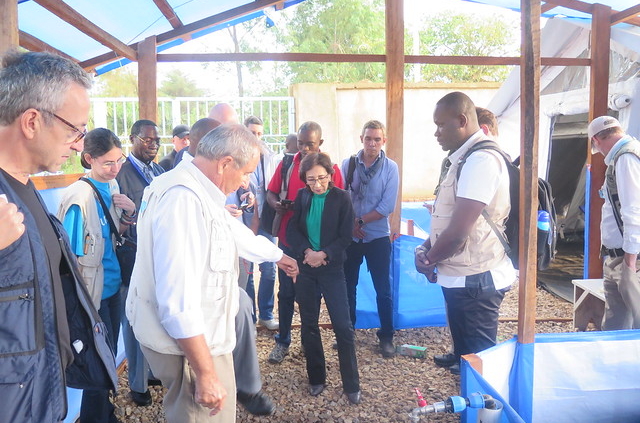 Eastern DRC Ebola Outbreak
What is Ebola?
The World Health Organization (WHO) website offers the following Key Facts:
Ebola virus disease (EVD), formerly known as Ebola haemorrhagic fever, is a severe, often fatal illness in humans.
The virus is transmitted to people from wild animals and spreads in the human population through human-to-human transmission.
The average EVD case fatality rate is around 50%. Case fatality rates have varied from 25% to 90% in past outbreaks.
The first EVD outbreaks occurred in remote villages in Central Africa, near tropical rainforests. The 2014–2016 outbreak in West Africa involved major urban areas as well as rural ones.
Community engagement is key to successfully controlling outbreaks. Good outbreak control relies on applying a package of interventions, namely case management, infection prevention and control practices, surveillance and contact tracing, a good laboratory service, safe and dignified burials and social mobilisation.
Early supportive care with rehydration, symptomatic treatment improves survival. There is as yet no licensed treatment proven to neutralize the virus but a range of blood, immunological and drug therapies are under development.

When did the Eastern DRC outbreak begin?
The government of the DRC officially reported the Eastern DRC Ebola virus outbreak (the country's tenth) on the 1st of August 2018 –  just after the declaration that another outbreak, in Equateur province (in the country's northwest), had successfully been contained and was ended. The successful containment of that outbreak was a remarkable public health victory.
At the time when the outbreak was declared, it was noted that "it is believed that the index case died in early May" – considerably before the outbreak was officially announced – and that "the delay in reporting of further sporadic deaths in the community since then may be associated with a strike among healthcare workers in the affected area."
Why has this outbreak been so difficult to contain?
The provinces of Nord Kivu and Ituri, where the outbreak is centred, have been suffering for years from poverty, conflict and instability. This complicates efforts to contain the Ebola epidemic in several ways:
Fighting Ebola requires that health workers be able to access communities – some have been or are very difficult to access because of the threat or reality of violence. For example, violence in Beni severely disrupted the Ebola response for several days in September – and some rural communities are very hard to reach because of the danger of militia attacks. Read here, here, here and here to get a sense of the challenges.
It also requires that community members trust health workers so that the health workers can offer proper prevention and care – that's also more difficult to ensure in a conflict zone where trust of authorities can be weak. This means that in some areas, people aren't bringing relatives with Ebola for treatment – and contacts are avoiding the response teams, so not being vaccinated.
People who are accustomed to fleeing violence can sometimes also seek to flee when Ebola strikes – potentially carrying the disease with them.
The decision of the country's electoral commission to delay voting in Beni and Butembo has led to the targeting of Ebola centres and workers. Some people who had been waiting for test results fled, potentially carrying the disease with them; the violence has also made it impossible for the response teams to carry out vaccinations and search for contacts.  The electoral commission stated that it was postponing the vote in those areas because of the Ebola epidemic. The cities are, however, also opposition centres, and some people feel that Ebola was used as an excuse to disenfranchise them. There is, therefore, increased distrust of the Ebola response teams.
There are some good summary explanations from Al Jazeera
How many people are affected?
As of 5 April, according to the DRC's Ministry of Health;
1117 cases were involved, of which 1051 were confirmed and 66 suspected.
there had been 702 deaths
339 people had been cured
53,613 people had been vaccinated
This makes it the second-largest outbreak in recorded history, behind the West African outbreak in 2014-2016.
One thing that is concerning is that by this point in an outbreak, one would hope to see declining numbers of new cases – but March 2019 had the highest number of new cases since the outbreak began.
There are also significant concerns that the outbreak will spread. South Sudan, Rwanda, northern Uganda and the area of the DRC just south of Nord Kivu – areas close to the outbreak – are all also areas with complex situations. There are also fears that the virus could become endemic in the Nord Kivu/Ituri area.
To stay up to date with the situation as it develops, we'd recommend following @MinSanteRDC and @HelenBranswell on Twitter. The Ministry account also gives you access to a daily podcast on Ebola and the response, provided for local communities.
Are there signs of hope?
Yes. While there have been no official statements on the success rate of the trial use of vaccines to contain the epidemic (and while there are concerns about the 'ring vaccination' strategy that has been at the centre of the vaccination response), it's clear that the vaccines are having a positive impact. Indeed, the Minister of Health at one point stated that without the vaccines, the DRC might have been looking at 10,000 cases by now.
Similarly, new treatment techniques are enabling more people to survive – including one of the first babies to survive Ebola. One report states that those who received the trial medications had a survival rate of 63%, as against an 80% mortality rate for those without the medications.
The dedication, courage and skill of the people working to contain the epidemic is extraordinary. Read some of their stories:
How can we pray?
The Congo Church Association has asked people to pray for:
health professionals caring for the sick in treatment centres
safe access to affected communities by medical teams – this region is classed a 'red zone' due to repeated violent attacks by militia groups, mainly thought to be the ADF. Give thanks for their courage and dedication in the face of ongoing danger and pray for protection.
ongoing health education in schools, churches, markets, via radio programmes and posters: pray that the message would get through, and cultural practices and beliefs and fear would not hinder the prevention and treatment of Ebola
children – for effective psychosocial and emotional care for those affected or orphaned (UNICEF); for orphans to be taken into foster families and not to be stigmatised
containment of the virus, and protection from major outbreaks in the big cities, especially Beni, Butembo and Bunia, and in neighbouring countries of Uganda, South Sudan and the Central African Republic
Please also pray for the stability of the region generally. And please give thanks for the scientists whose work has enabled life-saving advances to be made in vaccines and treatment.
Image – Meeting of MONUSCO with hospital staff in Beni, Nord Kivu. Photo: MONUSCO/Alain Coulibaly, used with permission under Creative Commons License.
https://www.ccow.org.uk/wp-content/uploads/2018/12/44444436052_18a63f6ac2_z.jpg
480
640
Suzabelle Jones
https://www.ccow.org.uk/wp-content/uploads/2018/05/CCOW-Logo-Revamp-V3b-300x98.jpg
Suzabelle Jones
2018-12-29 17:56:45
2019-04-06 08:47:48
Eastern DRC Ebola Outbreak