Case Study: Brightwell Supporting Refugees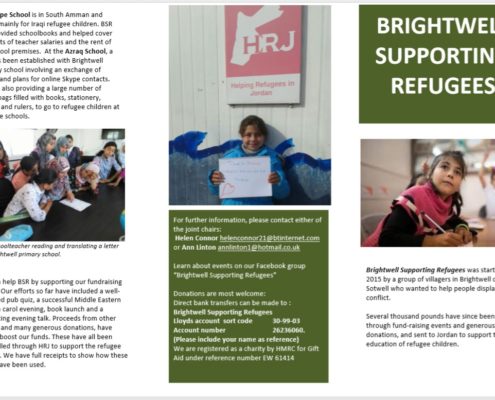 Brightwell Supporting Refugees
Through Brightwell Supporting Refugees, a small village community has worked to make a real difference to the lives of refugee children in Jordan, through dedicated fundraising and direct personal contact.
How it started
In June 2015 Helen Connor, Ann Linton and Angela Lewis from the village of Brightwell-cum-Sotwell in Oxfordshire went to a Refugee Week meeting in Oxford organised by Asylum Welcome. They were informed and inspired by the speaker, Dawn Chatty of the Refugee Studies Centre, who explained the history of the refugee crisis in Syria. They felt that their relatively well-off village could dosomething to help and that it would be good for others in the village to be informed about this issue. To enable this, they organised a public meeting in the village in November 2015 at which The Very Reverend Bob Wilkes, a trustee of Asylum Welcome, spoke. This led to the formation of Brightwell Supporting Refugees (BSR). While the newly formed group had a mission and objectives statement, a bank account and a committee of 9 trustees, it was originally a small unregistered charity. The group has since obtained recognition for their charity from HMRC and is applying for registration with the Charities Commission.
Much thought was given to what specifically the group should do. Initially they had thought that refugees would come to Oxfordshire and they would support them, but as a group in nearby Wallingford was preparing to do this and the anticipated numbers did not arrive, BSR made other plans. The group wanted to make it easier for refugees to return home, when circumstances allowed, by giving help as close to their home as possible, but also to give them a personal contact here, should they eventually be among those who come to the UK. Within the group there was also a particular interest in helping with education.
Helping Refugees in Jordan
A village resident who worked in the diplomatic service knew Catherine Ashcroft, who had founded Helping Refugees in Jordan (HRJ). HRJ is a grass roots organisation of volunteers, who support community charities, including those running schools for refugee children in northern Jordan, near the Syrian border. HRJ is supported by and comes under the umbrella of Mercy Corps.
BSR decided to make support for HRJ their main focus. Through HRJ, Brightwell Supporting Refugees began by supporting a school in north west Jordan, which was teaching over 400 children over a wide area of informal tented settlements. Their main focus this year has been to support Azraq School in East Jordan which was set up by HRJ for Syrian refugees there. It has also given support to Hope school for younger refugee children and local Jordanians, south of Amman. Funds from BSR have contributed to teachers' salaries, rent of school premises, books, clothes, IT equipment, bus transport to Azraq school and other necessities.
Fundraising
So far BSR has raised over £10,000. Approximately half the funds have come from individual donations and half from fundraising events. These have included a pub quiz, stall at the village music festival, Middle Eastern lunch, concerts, children's pop-up stall in their street and a talk by a local film producer. The challenge is to maintain this momentum.
The partnership with HRJ has been very helpful, as it is a recognised group that because of the volunteers who run it and logistical support from its partners, is able to spend all donations on the projects themselves. HRJ is also very good at giving information about precisely how money is spent: For example recently people knew that a £10 ticket for an event paid for 1 school bag filled with books and stationery materials.
Connecting Brightwell school with Azraq school
Over the past year BSR has been able to nurture a connection between Brightwell cum Sotwell Primary School and Azraq School in Jordan. This began with BSR trustees going in to Brightwell cum Sotwell Primary School to talk to the children. Then Year 6 read a story about refugees moving from Syria to Jordan and Year 5 and 6 pupils began to exchange letters with their counterparts in Jordan. In May 2017 when Catherine Ashcroft visited Brightwell, she received the Brightwell teacher's email address, which facilitated the contact between the teachers in the two countries. On 6th July 2017 a class from Brightwell cum Sotwell Primary School was able to Skype with children at Azraq School, singing songs to each other and talking a little – a wonderful experience.
Personal visit
The personal contact between Brightwell and the refugees in Jordan was strengthened some more when several of the trustees travelled to Jordan in October 2017 (at their personal expense) to visit the HRJ schools and meet refugees and charity workers. It also helped support the local economy with their tourism. The insights and impressions which they gained from this trip will no doubt be beneficial in further informing their local community and developing the work of BSR.
Inspired to do something similar?
If you would like to know more about the work of Brightwell Supporting Refugees, please take a look at their leaflet and their Facebook page (https://www.facebook.com/groups/653573804830781/?ref=br_rs) or contact either of the joint chairs: helenconnor21 [at] btinternet.com or annlinton1 [at] hotmail.co.uk. Perhaps you or your church are wondering what you can do to support refugees and asylum seekers? Please contact CCOW's Churches Refugee Networking Officer, Joanna Schüder – joanna@ccow.org.uk, 07552948688, who would love to talk to you about this and to connect you with useful resources and people.
https://www.ccow.org.uk/wp-content/uploads/2017/11/Brightwell-SS.jpg
777
1137
Suzabelle Jones
https://www.ccow.org.uk/wp-content/uploads/2018/05/CCOW-Logo-Revamp-V3b-300x98.jpg
Suzabelle Jones
2017-11-20 21:09:10
2020-07-15 15:16:50
Case Study: Brightwell Supporting Refugees