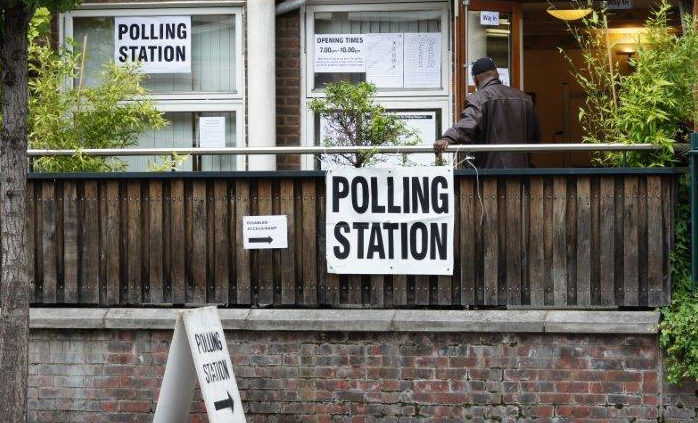 UK Elections, Philippines, Sponsored Walk – 11 June 2017
In this week's prayer email:

UK Elections
Philippines

CCOW Sponsored Walk

"And remember, I am with you always, to the end of the age." This phrase from the Revised Common Lectionary Gospel for the week has comforted Christians in danger throughout the centuries. As we read it this week, we thought of Christians being held hostage in Marawi City … those in the Central African Republic (again an area of concern) … and those in so many other places. For them, for all of us, may these words bring a renewal of faith and hope.
_________________________________________________________________________
UK Elections
Many church leaders and church-related bodies have made statements relating to this past week's elections – and have offered prayer points. A selection of comments and prayer points is below – at the bottom you'll find a prayer from the Church of Scotland and the Baptist, Methodist and United Reformed Churches which you may wish to use. You'll also find some action points.
Post-Election Prayer from the Church of Scotland and Baptist, Methodist and United Reformed Churches
Lord of all,
Amid the uncertainty of these results
We thank you for the democracy we have in this country.
We ask that you grant all those who have been elected the wisdom and compassion needed to govern.
May this become a society in which all people are enabled to flourish and live life in all its fullness.
Help us to play our part in building that society,
By holding those elected to account and by working with them towards the common good.
And Lord, today as always we pray for justice;
Justice in the here and now and justice in our shared future-
Oceans of justice.
Amen
Action Point: In addition to praying for your MP, can you set up a meeting with him/her  to discuss key issues? From the 1st to the 9th of July, the Climate Coalition is organising a Week of Action, where people are encouraged to speak to their MPs about climate change. There are resources here. Hope for the Future has also prepared a guide to building a relationship with your MP on climate change. We think it's the best thing we've seen in some time – and we have some copies to give away. If you'd like one, get in touch.
Philippines
In Marawi City, on the island of Mindanao,  battle continues between the government of the Philippines and an apparent coalition of militant groups, dominated by the Abu Sayyaf and Maute groups, that has affiliated with the Islamic State.  Several hundred group members attacked Marawi City on the 23rd of May; they remain in control of a small portion of the city after more than two weeks of fighting.  Official figures suggest that the violence has claimed the lives of over 200 people, including government forces, militants, and civilians. The militants are also continuing to hold a Catholic priest and other hostages, whom they are alleged to be using as human shields.
According to the government of the Philippines, mobile phone footage shows the militants' aim was to separate the area from the Philippines and to run it as an Islamic state. In the process of taking the area, the militants have targeted Christian civilians and their properties, taking hostages and circulating videos that show the destruction of the Catholic cathedral. They also have committed violence against Muslims who opposed their extremist teaching. The President has responded by invoking martial law over the totality of Mindanao; the army is fighting to retake the city, using both ground troops and bombings from the air.
Areas for prayer include:
Immediate humanitarian and reconstruction needs
Countering hatred
The need for peace and development in the region
The President's – and wider government's – response
Immediate humanitarian needs
Most people have now escaped from or been rescued from the city. The latest UNOCHA report estimates that some 290,000 people have been displaced by the conflict. Most are staying with host families, but over 39,000 are in evacuation centres.
According to an ACT Alliance briefing, initial data gathered by Christian Aid partner Ecosystems Work for Essential Benefits shows that "at least 65% of the internally displaced persons are women and children," as many men have stayed to guard properties or have gone to other locations to find jobs or funds. An assessment of needs in some evacuation centres suggested more food was needed, as well as pointing to an urgent need for mosquito nets, sleeping mats, cooking utensils and water and sanitary facilities. The assessment also pointed to a need for spaces that meet the cultural needs of the displaced population – and expressed concern that young and elderly people were at particular risk of illness.
Please pray:
for the safety and well-being of those who remain trapped in the city
for wisdom and courage for those who are trying to help them
in thanksgiving for the rescue/escape of those who have been able to leave
in thanksgiving for the hospitality of families and the work of local government, agencies and individuals to support people who have been displaced
that all displaced people will be able to access the food, housing, medical treatment, and water and sanitary facilities that they need
for people whose sense of displacement is exacerbated by conditions which are very different to those from which they are accustomed.
for all who are working to provide humanitarian relief. Pray especially for the work of Christians and Christian institutions working in such a sensitive situation. Ask that God will grant leaders and workers wisdom and discernment as they seek to assist all who come to them.
Countering hatred
While there are (see below) longstanding interreligious tensions in Mindanao, there is also a long history of interreligious cooperation. Indeed one of the clearest calls for justice for the Moro Muslims was written by the current Catholic Archbishop of Cotabato, Cardinal Orlando Quevedo, and the Catholic Bishop Prelate for Marawi recently commented that local Muslims had never supported extremists because "they knew exactly what the consequences would be to the culture of people, to the way of life. The people of Marawi have always been very peaceful."
The growth of groups that have pledged loyalty to the Islamic State is, however, worrying, as is the increased presence of non-Filipino jihadis among those involved in the fighting. There are strong concerns that the number of foreigners wishing to fight in the Philippines will increase, and that the militants will radicalise disaffected young people. There are also concerns that videos – such as the one showing the cathedral's destruction and others that show the impact of government bombs on Muslim civilians – will be used to foment hatred among all groups. The Armed Forces of the Philippines have requested that people not circulate the videos on social media.
Within this context, religious and political leaders are working to counter messages of hate. Filipino Muslim leaders have condemned the destruction of the Catholic cathedral, noting: "Let it be known to all that Islam commands all Muslims even in war time to protect places of worship … what this terrorist group has done is un-Islamic and a blatant disrespect and disregard of the teachings of Islam."  Similarly the political leaders of the Moro National Liberation Front and Moro Islamic Liberation Front have called on the militants to release the hostages that they are holding.
There are also many reported instances of continuing neighbourly collaboration among those of different faiths. One local Muslim leader, for example, hid over seventy Christians in his basement before leading them in an escape from the city.
The Interreligious Solidarity for Peace and the Zamboanga Peace and Security Forum commented: "While these events have manifested the worst of the self-styled oppressors and threat groups that have hostaged the residents of Marawi, they have brought out the courage and peace-loving character of our people … Muslims protecting Christians in ways that show that we are One Mindanao…."
Please pray:
In thanksgiving for Muslims and Christians who are seeking to build bridges through public statements condemning the harm done to their neighbours
In thanksgiving for people who have taken enormous risks to protect their neighbours. Pray for their safety and well-being.
That those who seek to advance an agenda of violence by fomenting hatred and radicalising young people will not succeed. Pray, too, that their own hearts may be turned from violence and hatred.
The need for peace and development in the region
To counter hatred, however, work also needs to be done on some of the region's major issues.
The battle around Marawi doesn't occur in a vacuum: Mindanao has been an area of conflict for centuries, with Muslims in the island's western area resisting Spanish colonisers from the 16th century onwards. A 2005 World Bank paper referred to it as the 'second-oldest conflict on earth'.
Following colonisation by the US, attempts by the US and subsequently the government of the Philippines to control the area by resettling Christians from other parts of the Philippines reduced the landholdings of the Moro Muslims to 17% of the territory they had once possessed and encouraged a complex of ethnically, religiously, and economically based tensions. These were exacerbated by the central government's encouragement of mining and logging in Mindanao for export purposes, and by human rights abuses. From the late 1960s onwards, there have been a series of armed struggles, the first of which was sparked by the killing of a number of Muslim military trainees. Over the decades, the various conflicts have led to over one hundred thousand deaths (estimates range widely), millions of people displaced, and immense damage to people's lives and livelihoods.
The Government has committed to rebuilding Marawi after its capture, and stated that it "will do everything to ensure normalcy and to deliver services to support the people's aspirations for a comfortable life." It's not just, though, a question of rebuilding what the insurgents have destroyed. There is widespread recognition that for lasting peace to occur, greater self-determination and efforts to redress the socio-economic injustices that have plagued Mindanao will be needed. The peace process, which has faltered under President Rodrigo Duterte, needs to be restarted and the framework for a self-governing region agreed in 2012 implemented. There needs to be greater justice in the use of natural resources. And greater priority needs to be given to the region's development. The development needs are serious: in the Philippines overall, the poverty incidence in 2015 was 21.6%; in the Autonomous Region in Muslim Mindanao [ARMM] , the rates were recently estimated as being about 48.2%. In Lanao del Sur, the ARMM province of which Marawi City is the capital, the poverty incidence is 74.3%.
Christian Monsod, a Filipino lawyer who helped frame the 1987 constitution notes: "The youth is restless and being seduced by the thought of the caliphate … the solution is not martial law but to speed up the peace process and to go into projects that would show the Muslim youth there is a better way to improve their lives."
Please pray:
for reconciliation and peacebuilding that recognises past injustices and works to reconcile – and provide justice for – all communities in Mindanao
for justice in the use of natural resources in Mindanao and throughout the Philippines, especially with regard to the rights of minorities and indigenous people
for transparent and effective work to rebuild Marawi and to relieve the poverty that afflicts so many people in the region
for the work and witness of Christians as they seek to demonstrate God's reconciling love in the region
The President's – and wider government's – response
President Duterte's declaration of martial law in Mindanao has caused great anxiety given the current President's human rights record and the way in which martial law was used by Ferdinand Marcos to establish a dictatorship. Concerns were exacerbated when the President said that "To those who have experienced martial law, it would not be any different from what President Marcos did … I'll be harsh."
The Catholic Bishops of Mindanao have issued a letter in response to requests for pastoral guidance. Calling on all people to work for peace, they note many questions surrounding martial law, state that it must be temporary, promise to be vigilant, and "exhort everyone to be calm in the face of Martial Law, to be obedient to the just commands of lawful authority, and not to provoke violent reaction." They also "urge the government to remove the causes of terrorism, such as poverty and injustice, through just and accountable governance focused solely on the common good."
To prevent abuses like Marcos', the 1987 Constitution provides mechanisms for the other branches of government to overturn the executive's declaration of martial law: "Congress (the Senate and House combined), voting jointly, on a majority vote, may revoke such proclamation; and
 The Supreme Court, upon a suit of any citizen questioning the sufficiency of the basis of martial law, must promulgate its decision on such suit 30 days after filing.
"
At least three Catholic bishops have joined a petition "asking the Supreme Court to compel Congress to hold a joint session and review" the imposition of martial law on the whole of Mindanao. They state that they are doing this not because they are wholly opposed to martial law, but to determine whether it's necessary for the whole island and to provide checks and balances to the executive branch. This is one of several petitions; the President has said that he will abide by the Supreme Court's decisions.
Many commentators have expressed the concern that President Duterte's instincts may tend more towards the use of military power than 'soft' power through peacemaking, arguing that while the former is necessary to restore order, the latter is important to create a climate for peace.
Please pray:
for wisdom for President Duterte as he decides on responses to the situation in Mindanao
that martial law may be used only within legal boundaries
for those who will monitor the human rights situation under martial law and those who are working to ensure that constitutional processes are followed
for wisdom for the Supreme Court
CCOW Sponsored Walk 
On the 22nd of July, CCOW will be holding our annual sponsored walk. It's always a very convivial event, with an excellent walk (arranged by Colin Cockshaw), good company, and a pleasant pub lunch along the way. This time Colin's arranged a route in the Henley area; the start and finish will be accessible both by car and by train.
If you'd like to join in, you can sign up on Eventbrite. We'd love to have your company. And if you can't make the event but would like to donate to CCOW, please feel free to do that!
https://www.ccow.org.uk/wp-content/uploads/2017/06/Polling-station-small.jpg
485
698
Suzabelle Jones
https://www.ccow.org.uk/wp-content/uploads/2018/05/CCOW-Logo-Revamp-V3b-300x98.jpg
Suzabelle Jones
2017-06-12 14:20:38
2017-09-01 20:16:10
UK Elections, Philippines, Sponsored Walk – 11 June 2017