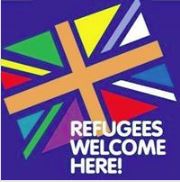 "Little Amal, the 12-foot high puppet of a 9-year-old Syrian refugee who is walking from Turkey to Manchester, is coming to Oxford on Tuesday 26th October.
She will be welcomed by a giant Alice in Wonderland. We would like children of all ages as well as adults, to come and join in the welcome procession and party.
CRAG (Charlbury Refugee Action Group) is running a workshop to make flowers to welcome Amal, on Tuesday 12th October, from 3.15pm to 4.30pm, at the Quaker Meeting House, Market Street, Charlbury.
If there is enough interest, the Story Museum wants to run a workshop in Charlbury to make a welcome banner later in October (for 7+ only). And there's also the possibility of learning a song of welcome (for all).
­­­­­­­­­­­­­­­­­­­­­­­­­­­­­­­­­­Please email campaigns@charlburyrefugee.org.uk if:
you want your child(ren) to come to the flower workshop, or
you and/ or your child(ren) are interested in coming to a banner-making workshop;
you think you will be able to come to Oxford to welcome Amal on 26 October (in the afternoon).
You can follow Little Amal's journey on Twitter at https://twitter.com/walkwithamal"