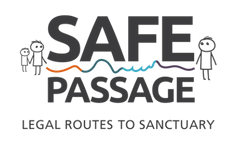 Juliet Kilpin of Safe Passage writes: "Today marks 80 years since my friend and fellow campaigner Lord Alf Dubs left Prague as a 6-year-old boy on a Kindertransport train. He was one of the lucky 10,000 children who escaped Nazi Europe and was welcomed by Britain.
If we could show so much generosity then, in a matter of months before the outbreak of World War Two, our Government can surely offer the same to today's child refugees.
This Refugee Week will you join me and Lord Dubs near Westminster to call for a new legal route to safety?
Join the demo and demand a legal route to safety for child refugees.
Start: Tuesday, June 18, 2019 • 1:15 PM.
End: Tuesday, June 18, 2019 • 2:45 PM.
Outside Parliament (exact location TBC)• Westminster, London, GB.
This can't wait. Our Government is due to close all routes to safety for child refugees next year. This means soon there could be no legal route to Britain for children seeking sanctuary.
Without a new resettlement commitment, there will be no hope for the thousands of children sleeping rough on the streets of Europe or living a life in limbo in a refugee camp.
Together, campaigners up and down the country have secured 1170 pledges of places for child refugees from UK local authorities. It's time to take these local pledges to Westminster and prove local communities still have the capacity to welcome child refugees, 80 years on from the Kindertransport.
The Kindertransport shouldn't just be a moment in our history, but a lasting legacy. Together we need to make sure these places are filled.
We're demanding a new legal route to safety, to resettle 10,000 child refugees from Europe and conflict regions over the next 10 years."