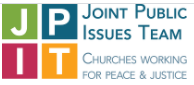 Following the Government's consultation this year on a 'New Plan for Immigration', the Nationality and Borders Bill has been introduced in Parliament. If passed, this Bill would have a major effect on the way the country responds to those in need of sanctuary.
Many working in this area have concerns about some of the the proposals.
(You can find our latest briefing on the Bill here, ahead of its Second Reading on 19 July). We are looking to build campaigning strength as the Bill progresses through Parliament.
It is vitally important that the voices and experiences of refugees and asylum seekers, and those who work with and support them, are heard as part of the discussion of these proposals.
We also want to equip local church leaders, congregations, and individuals to contribute to political influencing – through sharing stories, learning together about the Bill, and raising awareness of its consequences in our Christian communities. We hope we can build a network that will also work together to raise our concerns with the government through MPs and other actions. Join us at this meeting to be a part of this campaigning work.
This meeting will be hosted by the Joint Public Issues Team, but is open to all churches and their members. It is free to attend and open to all.