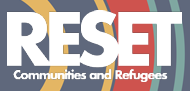 "In order to be approved as a Community Sponsorship Group by the Home Office, you are required to attend training provided by Reset that will prepare you for working with resettled refugees.
We've recently made some changes to our training and have split it into two parts in order to provide Community Sponsorship Groups with the support they need when they need it. This is based on the feedback Groups have been given us over the past two years, we know there's a lot of information to take in at our sessions!
Training Part 1: Planning your Support
Here's some things to know about the first part of our required training:
Part 1 sessions are delivered as a one-hour webinar on Zoom. You can find our webinar schedule with registration links below allowing core Group members to attend whichever training date works best for their schedule.
This session is for core Group members (these are the people who lead the teams or areas of work on your application)
This training should be received in the early stages of your planning and before you have submitted an application to the Home Office.
This session includes information about the refugee resettlement process, planning your support to a refugee family, engaging local stakeholders and navigating the application process
| Part one training date * | Time | Webinar registration link |
| --- | --- | --- |
|                  Tuesday, 05 May 2020 |        5:30pm | |
| Saturday, 23 May 2020 |      10:00am |                         Register here |
* More webinar training dates will be added soon!
Training Part 2: Supporting Refugees
Here are a few things to know about the second part of our required training:
The training lasts for three hours and can take place on weekends or weekdays, depending on Reset's availability.
Reset staff will travel to your region to conduct the training for your Group.
The training is designed to be delivered as close as possible to the arrival of the family you will support.
To attend, your Group should have submitted your application to the Home Office. The Home Office will refer you to us if you submit the application without having booked/attended training.
There is no set number for how many Group members can attend a training session.
In this session we'll discuss cultural awareness, empowerment, setting boundaries in your support and the logistics of planning for arrival.
When it is safe to do so, training sessions will take place around the UK on a regular basis. Find a schedule of upcoming training dates below or get in touch with us to book your Part 2 training. "