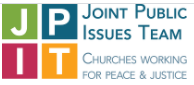 "We will be meeting online again on 7th October at 8pm. At this meeting we will update you on the progress of the bill, hear from you on any engagement you've had with your communities/MPs so far, outline JPIT's anticipated way forward (including faith leaders letter action, MP engagement and a rally in Westminster on the 20th October) and continue developing a strategy to engage our churches in campaigning for more just Refugee and Asylum legislation."
Email info@jointpublicissues-news.org.uk for the zoom details.
See also JPIT blog article "Why the UK is setting itself up to struggle in response to conflict in Afghanistan".