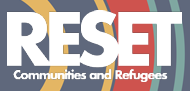 "If you are interested in finding out how to get involved with Community Sponsorship the easiest way you can do that is by signing up to one of our regular informal drop-in events. We will give a short presentation and then take any questions.
You can participate and interact as much or as little as you'd like! We are happy to take questions and chat, or you can keep your camera off and just have the call playing in the background while you make your dinner. It's up to you!
After the drop-in, you'll have the option to book a 1:1 call with Reset and/or connect with a local Community Sponsorship group if you're interested in volunteering.
Please make sure you register in advance – Register here.
Our next dates are:
21 September 2021, 6:00pm – 6:45pm
19 October 2021, 6:00pm – 6:45pm"