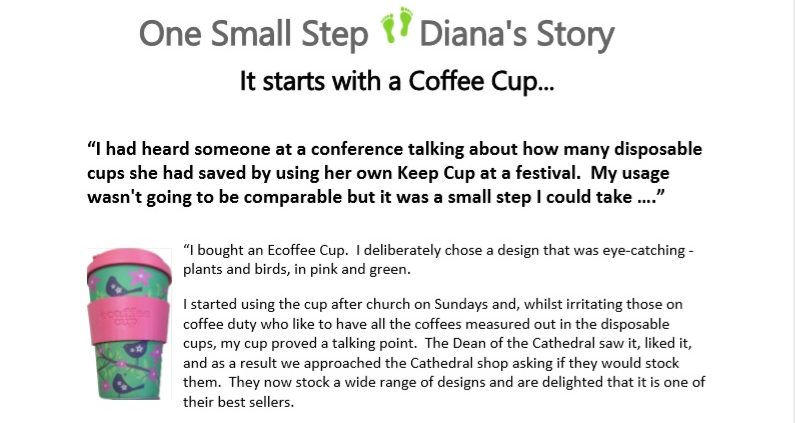 2018 Dates for Prayer and Action, One Small Step, Short Notes: 7 to 13 January 2018
In this email:
Dates for Prayer and Action 2018
One Small Step: Diana's Story
Short Notes: Cholera Outbreak, Christmas in Mosul, South Sudan, Rohingya Repatriation, Meltdown and Spectre

Whether you celebrated with the readings for Epiphany, the Baptism of Christ or the Orthodox Christmas this Sunday, we hope that it was joyful! And we pray that this year will be full of opportunities to see Christ more clearly, love Him more dearly, and follow Him more nearly.

Dates for Prayer and Action 2018
"For God so loved the world that He sent His only son …." John 3:16
Throughout Christmas and Epiphany, we're reminded of the many ways that the wider world is engaged in the story of Christ's Incarnation. Christmas is anything but private. >Mary, Joseph and their new baby boy find themselves interacting in unexpected ways with creation itself, marginalised shepherds, foreigners seeking truth, a hostile governing power, and servants of God in the temple. The heavens show God's glory; outsiders are invited in to worship; political powers are shaken; the quiet, hidden faithful rejoice at what God has revealed to them.
As servants of the Incarnate Christ, we're called today to pray for and serve the world to which he came and of which we are a part. As we seek to help our churches – and ourselves – live out this calling, we give thanks for those who provide resources to help us. Some of those resources are gathered in the attached list of dates for prayer and action. We pray that God will guide and bless the prayer and work that they inspire.
One Small Step: Diana's Story
As ever, for the New Year, there's a lot being written about New Year's resolutions … much of it focusing on why we do or don't follow through on them. There's lots of good advice about the need to set achievable goals and to take simple steps to change our habits.
Even doing that, though, can be harder than it looks. We need to have a sense that what we are doing will genuinely make a difference. And sometimes we can get stymied as we consider how we'll work out the practicalities – figuring out not only what we want to do, but also how we can do it without spending more time, money or effort than we feel we can afford.
For many of us, when practical changes do take place, it's often because we're inspired by someone else – seeing them doing something or acting in a certain way. Sometimes they might be doing something we've half thought about, but their example shows that a theory can be a lived reality, and their practice can help us turn our idea into a practical proposition. Sometimes they may have an insight about what to do and how to do it that would never have occurred to us. Either way, their story can help us to a deeper understanding of what it means to follow Christ – and how we can do it in specific ways.
With this is mind we at CCOW want to share stories of change – the small steps individuals have taken to live more in keeping with their faith – to help inspire and encourage others on their journeys.  Appropriately enough, in a week when the scale of waste caused by single-use coffee cups is much in the news (did you know that around 500,000 coffee cups are littered every day in the UK?!), the first of our 'One Small Step' series starts with a reusable coffee cup. We hope you'll enjoy and be inspired by the story, and please pray:
that the House of Commons Environmental Audit Committee report on disposable coffee cups (very readable, and fascinating – and here's a summary, too) will lead to real change in the industry and in people's consumption patterns
that stories like Diana's will inspire people to make a switch to reusable cups – and that they in turn will inspire others, creating a critical mass and shifting norms
that this will be part of a larger effort to reduce the unsustainable amounts of waste that are contaminating our environment
Action Point: If you're looking for reviews of reusable cups to decide which one you want, here are some suggestions and reviews from The Independent, Friends of the Earth, and Wirecutter.
Short Notes: Cholera Outbreak, Christmas in Mosul, South Sudan, Rohingya Repatriation, Meltdown and Spectre

https://www.ccow.org.uk/wp-content/uploads/2018/01/One-Small-Step-Dianas-Story.jpg
589
795
Suzabelle Jones
https://www.ccow.org.uk/wp-content/uploads/2018/05/CCOW-Logo-Revamp-V3b-300x98.jpg
Suzabelle Jones
2018-01-07 21:34:41
2018-01-19 21:38:31
2018 Dates for Prayer and Action, One Small Step, Short Notes: 7 to 13 January 2018